Conditions:
CARPAL TUNNEL
---
About Carpal Tunnel
Carpal tunnel syndrome is one of the most common nerve compression diagnoses. The primary symptoms of carpal tunnel syndrome are tingling and/or numbness around the hand, especially in the thumb, second and third fingers. These symptoms are the result of irritation and compression of the median nerve resulting in inflammation of the surrounding area. As the inflammation persists, the nerve will become sensitive causing tingling, numbness, and sometimes pain to be felt in the hand and fingers. Most often the symptoms are focused on the thumb, second, and third fingers.
One of the hallmark signs of carpal tunnel is when you find yourself shaking your hand to "wake it up" when feeling tingling, especially at night. Because tingling, numbness, and pain are very general symptoms, carpal tunnel syndrome is often a misdiagnosis of other common conditions. Frequently pinched nerves in the neck or even shoulder problems will present with similar hand symptoms to carpal tunnel syndrome. Other diagnoses that can lead to hand symptoms are:
-Radiculopathy from a pinched nerve or bulging disc in the neck
-Shoulder problems putting pressure on nerves
-Neuropathy from diabetes
These are conditions we also have treatments for at Blue Mountain Wellness!
Very pleased with everyone being not only professional, but friendly as well.

Great staff. Love the new office 😊

-Pamels P.
CAUSES OF Carpal Tunnel
The main cause of carpal tunnel syndrome is repetitive activity placing stress on the hand and wrist. Movements like using a mouse/keyboard for your job or operating machinery place small amounts of repetitive tension on the carpal tunnel. Day by day more pressure is placed on the nerve in the carpal tunnel and eventually, symptoms start to progress. Another huge risk factor in our modern society is mobile phone use. Scrolling, gaming, and texting place a lot of strain on the tendons that travel through the carpal tunnel eventually leading to inflammation and pressure on the median nerve. Often there is not one specific cause of carpal tunnel syndrome and can arise from a combination of the risk factors already discussed which increase the risk of developing this condition. 
SYMPTOMs OF Carpal Tunnel
---
TREATMENT OPTIONS
There are some excellent options to help resolve carpal tunnel syndrome naturally. At Blue Mountain Wellness, our treatments can reduce symptoms, and help you get back to the activities you love. Our treatment program consists of:
-Chiropractic Adjustments: Corrects alignment and reduces pressure on nerves
-Arthrostim: Low force adjusting tool and muscle therapy device to help reduce pain and muscle tension
-Electric Stimulation Therapy: Relieves pain and relaxes muscles
-Radial Pulse Wave Therapy: Breaks up muscles tension and stiffness
-Class 4 Laser Therapy: Helps reduce inflammation and promote tissue healing around the carpal tunnel
-Home Stretches and Exercises: Promotes correct biomechanics reduces tension in the wrist and hand
-Supplements: Increase healing and reduce inflammation
Schedule an Exam
Our Chiropractic Techniques
---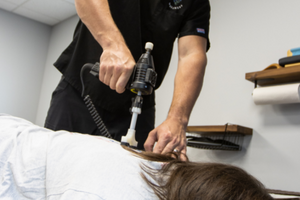 Arthrostim
Low force adjusting tool and muscle therapy device to help reduce pain and muscle tension