At Blue Mountain Wellness, we prioritize the importance of a healthy spine for overall well-being. Our chiropractic care services aim to alleviate pain and discomfort at their source while enhancing the body's natural healing abilities. We begin with a thorough evaluation of your spinal health, utilizing advanced tools to pinpoint any issues with joint mobility or spinal structure. With a clear understanding of your condition, we create a personalized treatment plan tailored to your specific needs.
CHIROPRACTIC CARE AT BLUE MOUNTAIN WELLNESS
At Blue Mountain Wellness, we believe in a thorough approach to chiropractic care. We start by carefully examining the structure and function of your spine. If we discover any issues with joint mobility or spinal structure, we offer a variety of non-invasive treatments to address them.
Our chiropractic techniques include manual adjustments, e-stimulation, intersegmental traction, spinal decompression, laser therapy, flexion distraction, thompson drops, activator methods, and more. By using these methods, we aim to correct joint and structural problems, providing relief from pain and enhancing overall function.
Our mission is to offer effective, personalized treatment options that cater to each patient's unique needs. We firmly believe that non-invasive chiropractic care plays a crucial role in promoting optimal health and well-being. Your well-being is our top priority.
Cost:
At Blue Mountain Wellness, we believe that your journey to better health should be accessible and affordable. That's why, for a limited time, we're pleased to offer our Chiropractic Care Consultation at an exclusive rate of just $49.
Here's what's included in this exceptional offer:
Comprehensive Consultation: You'll have the opportunity to sit down with one of our experienced chiropractors. During this consultation, we'll listen attentively to your health concerns, discuss your medical history, and explore your specific needs and goals.
Free Examination with the Doctor: As part of this special offer, you'll receive a thorough examination by our dedicated chiropractic professionals. We'll assess your condition, pinpoint areas of concern, and develop a clear understanding of your unique requirements.
X-Rays If Medically Necessary: To ensure we have a comprehensive view of your health, we provide X-rays if they are medically necessary. This step is essential in crafting a precise and tailored treatment plan that's right for you.
This limited-time package, valued at $250, is designed to empower you to take control of your health and well-being without breaking the bank.
Don't miss out on this opportunity to experience the benefits of chiropractic care and embark on a path toward a healthier, pain-free life. Our team at Blue Mountain Wellness is here to support you every step of the way.
To take advantage of this offer and schedule your consultation, please call us at (717) 865-6183 or use our convenient online booking system. Your health is our priority, and we look forward to assisting you on your wellness journey.
Don't see an appointment that works with your schedule?
Please call our office at (717) 865-6183 for more appointment availabilities.
Benefits of Chiropractic Care
---
We believe that chiropractic care is an important part of maintaining a healthy lifestyle. Our services include spinal adjustments, therapeutic exercises, and massage therapy, all of which are designed to alleviate pain and promote healing. We also offer nutritional counseling and lifestyle advice to help patients achieve optimal health and prevent future injuries.
At Blue Mountain Wellness, we strive to create a comfortable and welcoming environment for our patients. We understand that every patient is unique and that their treatment needs may vary. That's why we take the time to listen to our patients and develop customized treatment plans that address their specific concerns.
Will The TriCore-4 Protocol Work for you?
What is TriCore-4?
The TriCore-4 Protocol is an exclusive treatment developed by Dr. McKinney that uses Photon Enhanced Hydration to treat low back pain without medications, injections or surgery.
FAQ's
Q: Do you take insurance?
A: Our office accepts most insurances, for a complimentary verification of your insurance or more info, click HERE.
Q: What will be happening during this first session?
A: The first appointment the provider will do a thorough exam as well as an X-Ray if medically needed. The session is one of our therapies. Depending on their findings during that first appointment they will have you try one of them.
Q: Where are you located?
A: We are located in Fredericksburg, PA (Lebanon County)
Q: How do I get started?
A: Complete the form above or give us a call at (717) 865-6183. You can schedule online HERE.
Our Chiropractic Techniques
---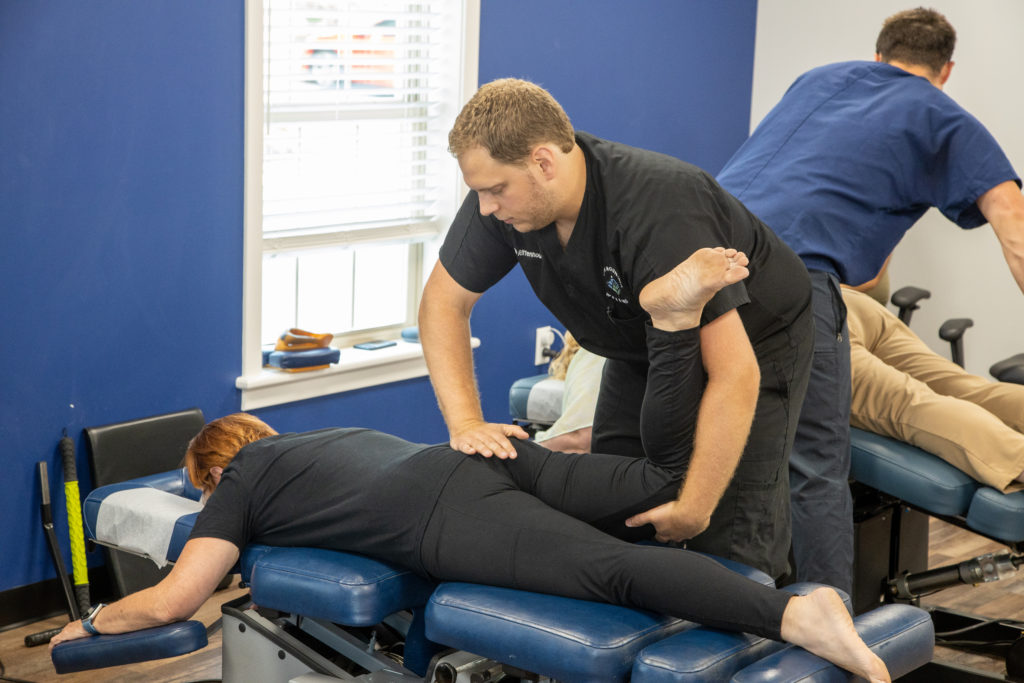 MANUAL ADJUSTMENTS
The most common chiropractic care is manual adjustments. The art of chiropractic lies in the adjusting. At Fredericksburg Chiropractic we believe in hands on manual manipulation for the majority of our treatment plans. Chiropractic literally means "done by hand" in Latin. Keeping this in mind, we believe it is best to use manual adjusting techniques for our patients. Our patients have excellent results from our hands on adjustments.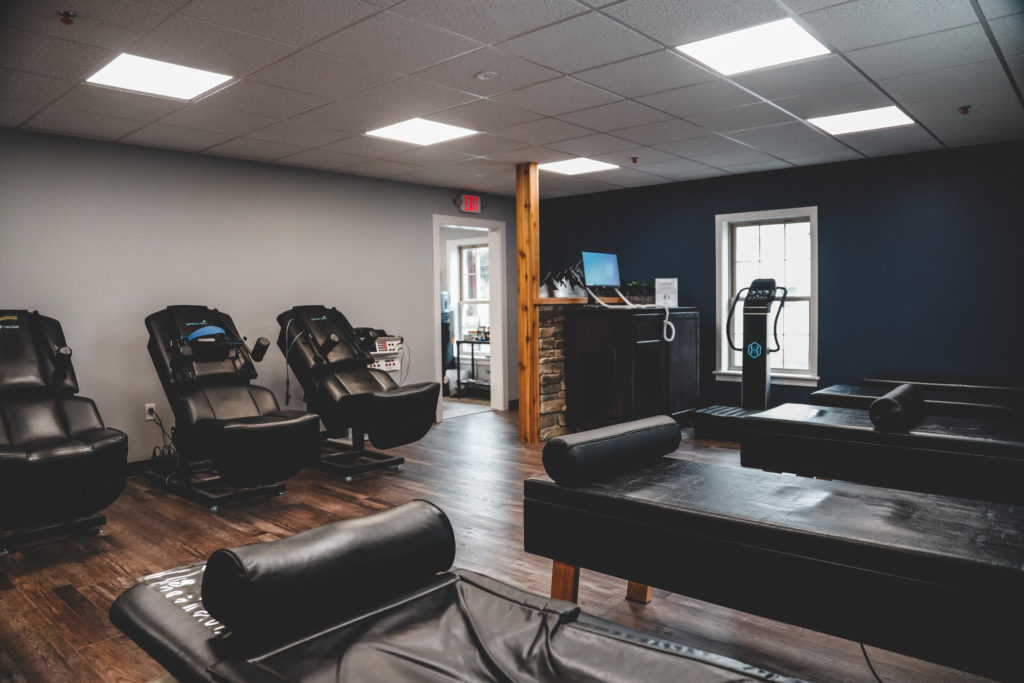 E-STIMULATION
In addition to manual adjusting, we also offer e-stimulation, commonly referred to as e-stim. E-stim is administered to patients when they have very spastic muscles. The electrical impulses cause the muscles to repeatedly fire. These repeated muscular contractions in turn fatigue the muscles. When the muscles fatigue, it allows them to relax from their previous state of contraction which often takes pressure off the nerves that are causing the felt pain. The electrical stimulation is typically administered for 10 minutes prior to chiropractic treatments. The relaxed muscles will help the manual manipulation adjustment go smoother.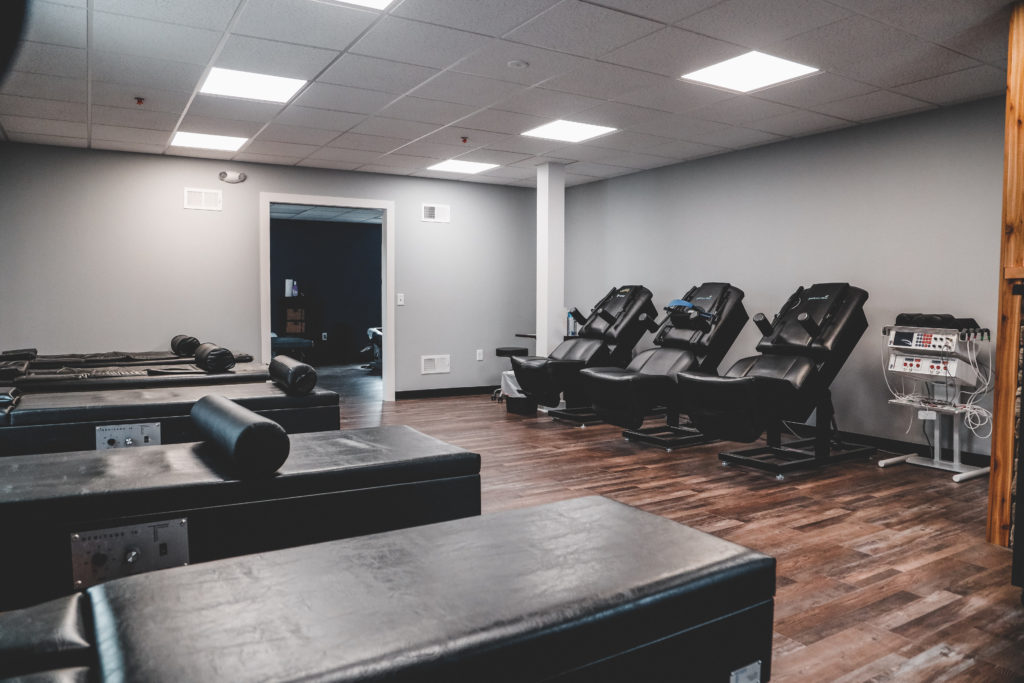 INTERSEGMENTAL TRACTION
Following a chiropractic adjustment, we may administer intersegmental traction. After the chiropractic adjustment the patient lays on an intersegmental traction table which rolls up and down the axial spine. The rolling action helps induce motion back into the spinal joints as the machine rises on its Y axis while tractioning the spine on its X axis. Patients often describe the intersegmental traction table as a massage table.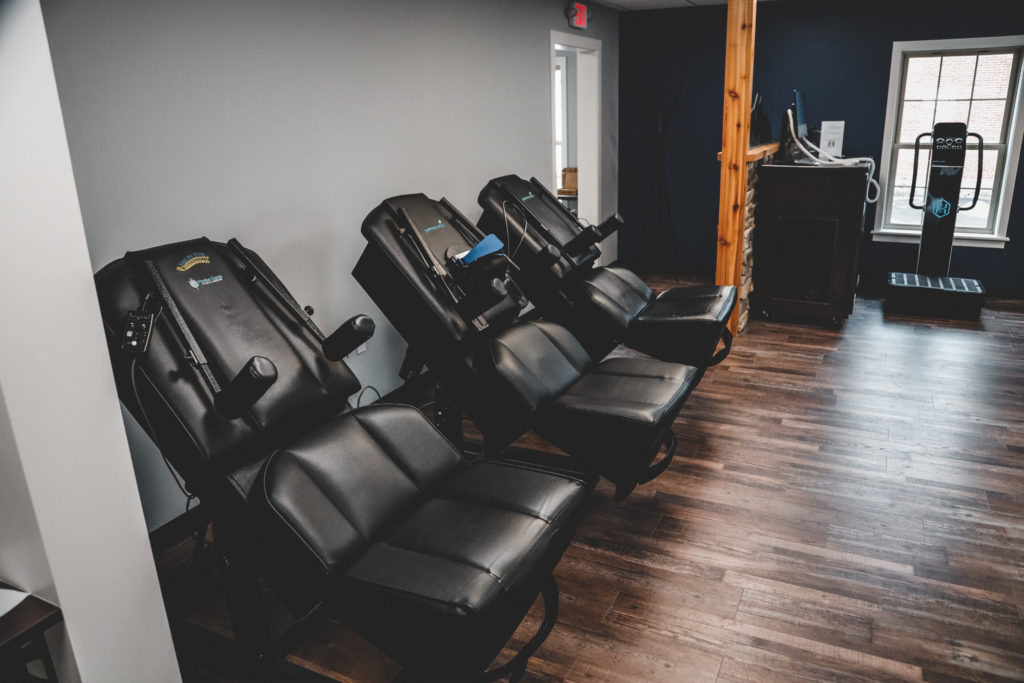 SPINAL DECOMPRESSION
Spinal decompression utilizes a gentle traction to stretch the spine, joints, and a wide range of important muscles including the back, hips, and thighs. Patients are gently leaned back into a supine position and the machine does all the work. Many fall asleep while being treated as the gentle vibration helps to further relax the muscles.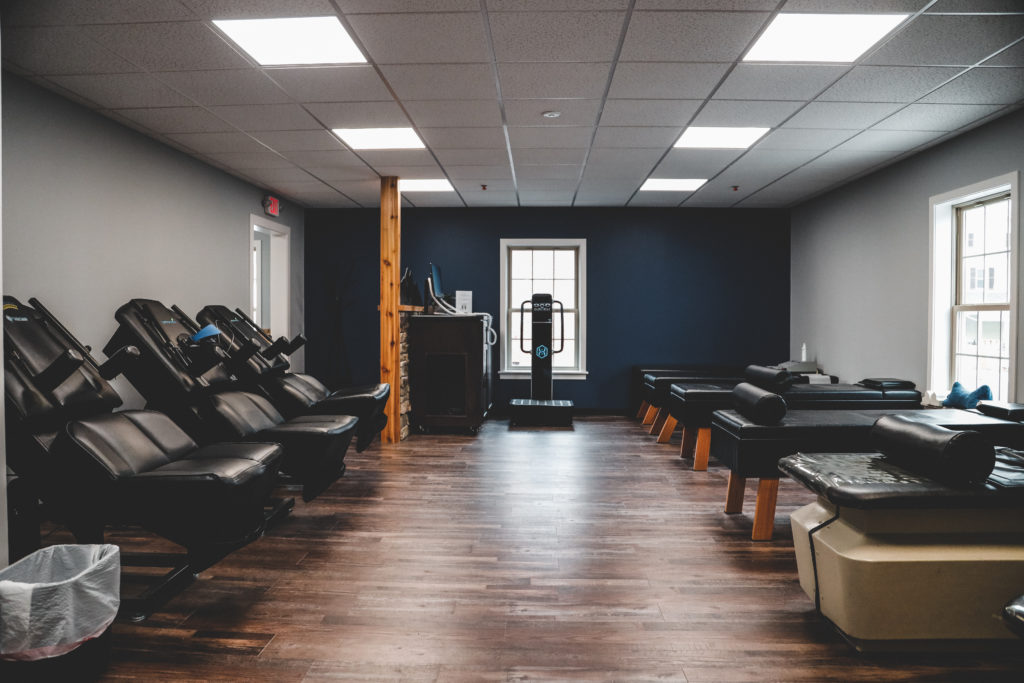 LASER THERAPY
High Intensity Laser Therapy (HILT) is an amazing tool for many of our chronic patients. For those suffering with inflammation, our class IV laser will accelerate healing time by boosting the production of ATP which is the energy source of a cell, released by the mitochondria. Many patients feel instant relief with the soothing heat generated as a by product of a laser treatment.
Whether you are experiencing back pain, neck pain, headaches, or other symptoms, our team is here to help. We are committed to providing the highest quality chiropractic care services in a warm and caring environment. Contact us today to schedule an appointment and start your journey toward better health and wellness.
At Blue Mountain Wellness, we pride ourselves on creating a welcoming and comfortable environment for our patients. We take the time to listen to your concerns and answer any questions you may have about our services. Our goal is to help you achieve optimal health and wellbeing so that you can live your best life.