Services
NEUROPATHY TREATMENT
---
Welcome to Blue Mountain Wellness in Fredericksburg, PA, where we offer comprehensive care and treatment for neuropathy. Our team of highly trained healthcare professionals is dedicated to helping you find relief from the symptoms of neuropathy and improve your overall quality of life.
Neuropathy Reversal with Blue Mountain Wellness
---
Neuropathy is a condition that affects the nerves, causing pain, tingling, and numbness in the hands and feet. It can be caused by a variety of factors, including diabetes, chemotherapy, and certain autoimmune disorders. At Blue Mountain Wellness, we take a holistic approach to treating neuropathy, focusing on addressing the underlying causes of the condition as well as managing its symptoms.
Our treatment plans are tailored to each patient's individual needs and may include a combination of therapies, such as chiropractic care, acupuncture, and physical therapy. We also offer nutritional counseling and supplements to help support nerve health and reduce inflammation.
UNDERSTANDING NEUROPATHY Reversal
If you have Neuropathy you are already aware of the numbness, burning, and tingling sensations that keep you up at night or make it hard to navigate your everyday life. When you have Neuropathy it means your nerves are dying.
Neuropathy can have many causes, such as diabetes, hereditary disorders, inflammatory infections, poor nutrition, chemotherapy, heavy metal exposure, pinched nerve, agent orange exposure, environmental toxins, auto-immune disorders, and more.
I have been going here for almost a year for neuropathy. When I first went I was skeptical. But after a short time I was convinced this was the right place to be to take care of my Neuropathy. All the staff is very friendly and will do whatever they can to help you. You can talk to them all just like they are family.

Robert J.
Neuropathy is most commonly 'treated' using prescriptions like Gabapentin, Cymbalta, or Lyrica. These pharmaceuticals just MASK symptoms and don't keep the problem from getting worse. We have a more permanent approach at BMW.
Our Neuropathy Reversal Program is built to optimize your health. Damaged Peripheral Nerves can be healed when given the right conditions. Our program is backed by science and supported by physiology. The at-home protocols are simple to follow and ensure our program is able to fully optimize your recovery.
We personalize a plan, especially for you. We pair in-office treatments and home treatments to help accelerate your healing and get you back on your feet.
Everyone is unique and every case of Neuropathy has its own story. The best way to see if this program is right for you is by scheduling an initial exam and sitting down one-on-one with a doctor to talk about your options. There is no commitment to the program by sitting down for an initial exam.
We've had patients begin to regain feeling in their hands and feet in as little as a few days! Some patients' balance was restored within weeks and it was noticeable to family members and loved ones.
Many patients are told that there is no cure for Neuropathy and they lose hope but we are here to help you regain your life back by restoring your nerves and reversing your Neuropathy.
Dr. Mckinney's Neuropathy Reversal Webinar
Dr. McKinney reviews how you can get LASTING relief from Neuroparhy without Drugs in his latest webinar at Blue Mountain Wellness. Did you miss it? That's okay! We recorded it for you so you can watch the replay.
In this webinar he covers:
The truth of standard Neuropathy Treatments
What could be causing your pain?
Dangers of Neuropathy
Proven methods of lasting relief
Seven Most Common Signs
Risk of Amputation
Special Offer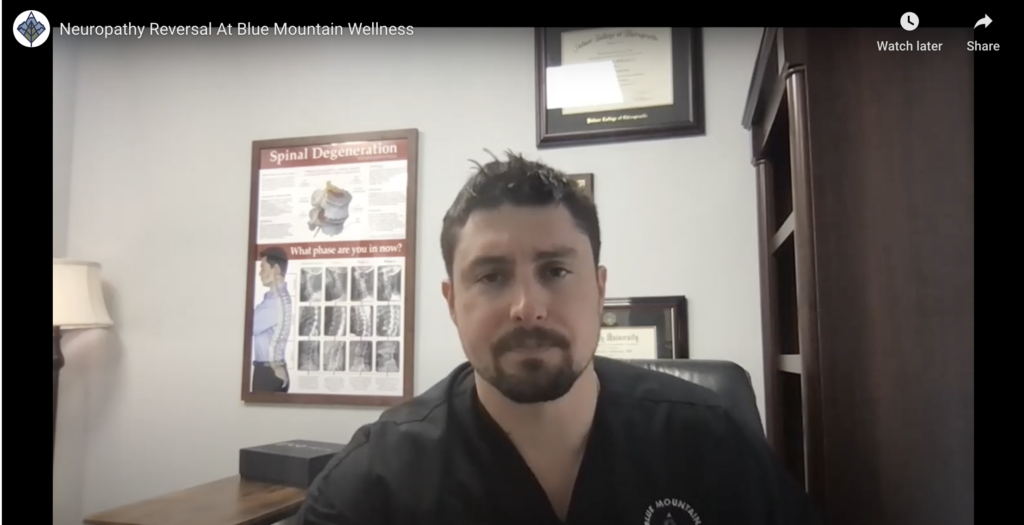 Treatment
One of the key treatments we offer for neuropathy is low-level laser therapy (LLLT). This non-invasive treatment uses low-power lasers to stimulate blood flow and promote healing in damaged nerves. LLLT has been shown to be effective in reducing pain and improving nerve function in patients with neuropathy.
In addition to LLLT, we also offer regenerative medicine treatments such as platelet-rich plasma (PRP) therapy and stem cell therapy. These treatments use the body's own healing abilities to repair damaged nerves and tissues, reducing pain and improving function.
At Blue Mountain Wellness, we understand the toll that neuropathy can take on your daily life. Our goal is to help you find relief from your symptoms and improve your overall health and wellbeing. If you are experiencing symptoms of neuropathy, contact us today to schedule a consultation and learn more about our treatment options.
DO YOU GUARANTEE RESULTS?
Many of our patients seeking relief from their neuropathy symptoms ask if we can guarantee that our services will work. While we would love to guarantee results, neuropathy is a complex issue and such a guarantee can not be made as our program requires our patients to strictly adhere to our protocols.
With our diabetic neuropathy patients, we can guarantee an improvement in the quality of life of those patients following our systems. We use objective measures to quantify our outcomes and determine if our patients are on the right track. This may include monitoring glucose levels, ketone levels, weight, body composition, blood pressure, and thermography. Using these measurable outcomes, we are able to course-correct where necessary so we can continue improving our patients' quality of life.
Given the right environment, the body is able to thrive and repair itself. Our program is just about doing this. There are no magic potions or lotions to fix neuropathy. Medically the only solution to help those suffering from neuropathy is by masking symptoms using drugs like Gabapentin, Lyrica, or Cymbalta. The issue with this approach is that these drugs do not fix the cause. In many patients, the severity of neuropathy continues to get worse. This means the patient will need to increase their dosage to continue masking the pain, while the underlying issue may manifest into a bigger problem.
DIABETIC NEUROPATHY REVERSAL
While we have successfully treated various cases of neuropathy in patients, we have the most consistent success in reversing Diabetic Neuropathy. If you are not diabetic, our doctors may still consider you as a candidate for our reversal program. Other successful cases of reversing neuropathy include chemotherapy-induced neuropathy, chemical-induced neuropathy, agent orange exposure, and idiopathic neuropathy.
Our Treatment Options
---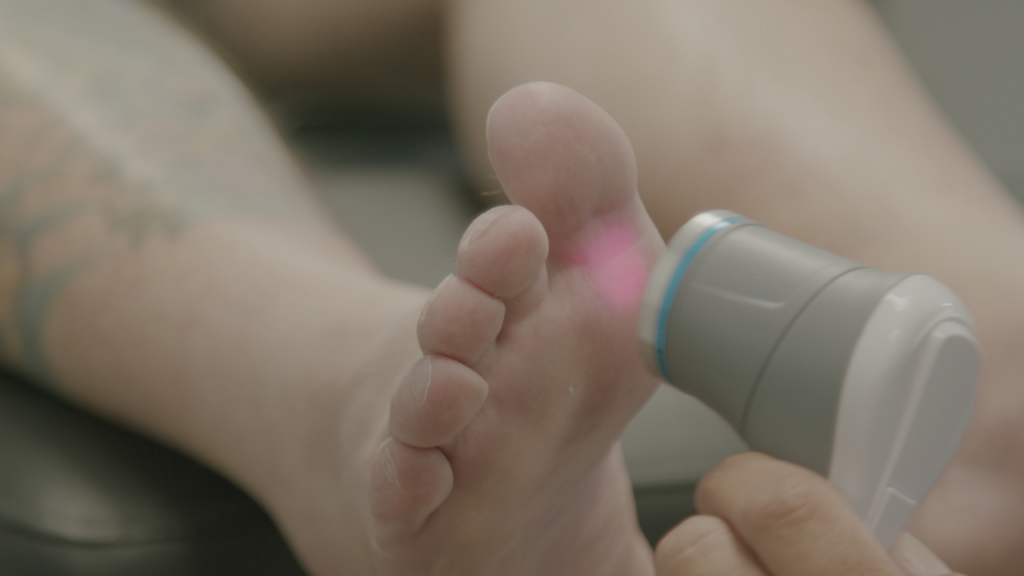 Class IV Laser Therapy
Class IV Laser Therapy is an FDA-cleared device and is a great low-risk technique to treat chronic pain. It reduces inflammation and promotes healing and pain relief.
Light at red and near-infrared wavelengths is applied to the treatment area which decreases pain and inflammation. It uses low levels of heat that will not hurt or burn the skin.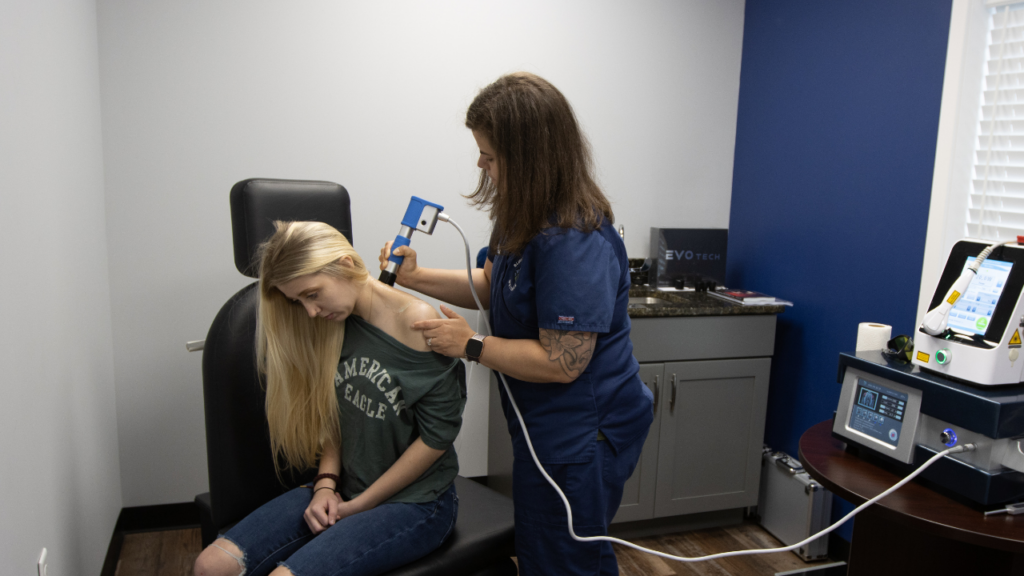 Radial Pulse Wave Therapy
Radial Pulse Wave Therapy uses ultrasound technology to send radial pulse waves into the tissue causing it to break up scar tissue and increase blood flow to allow the treatment area to heal itself, naturally.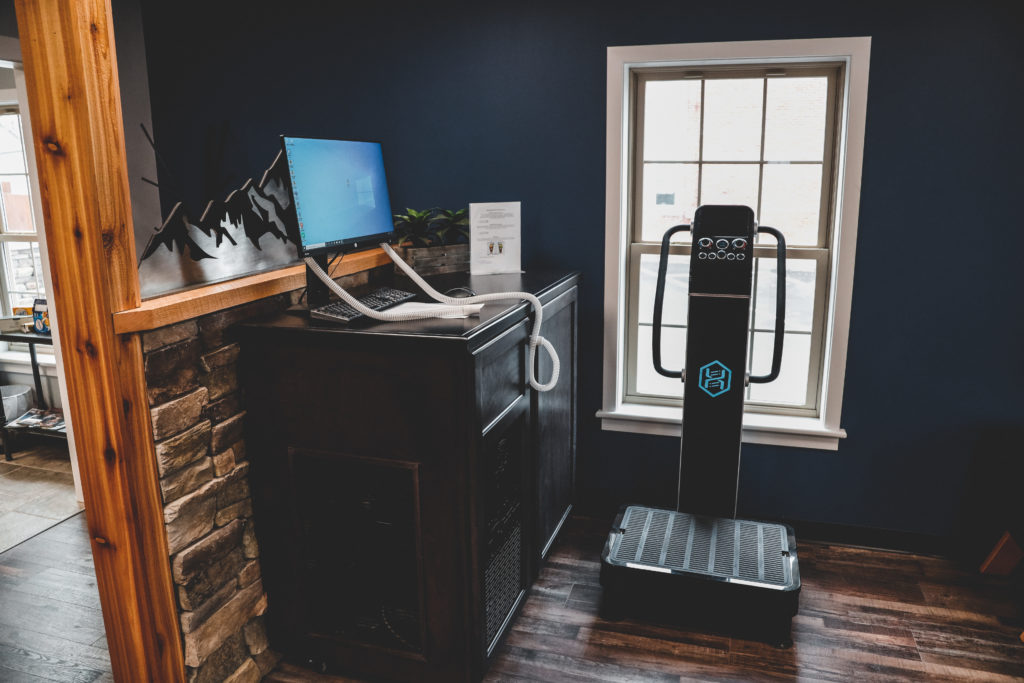 Vibration Plate Therapy
Vibration Plate Therapy includes a machine that vibrates, forcing your muscles to contract and relax. It stimulates the nerves and muscles to help reset your nervous system.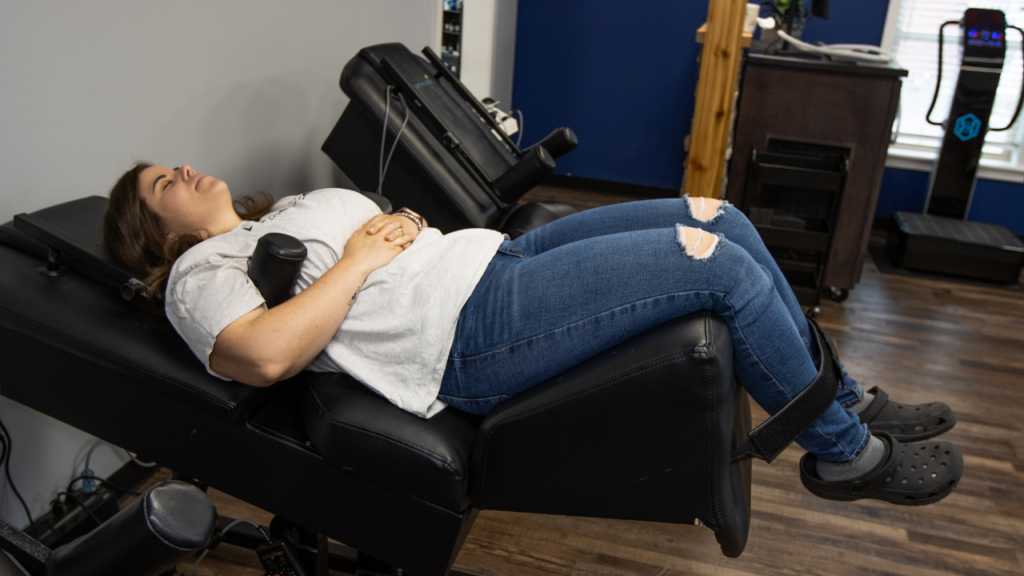 Decompression Therapy
Decompression is a non-surgical and non-invasive therapy that can help reduce back, neck, leg, and arm pain. It works by reducing the pressure on the discs and joints.
IS THIS PROGRAM FOR YOU?
In order to be considered for our neuropathy reversal program, a detailed exam will be done first. During this exam, we will be able to determine if our approach will be the right fit for you and customize your healing plan. The length of treatment varies by patient but many have started seeing great results within a few weeks.
We have had hundreds of happy patients complete our Neuropathy Reversal Program and got back to doing what they love.
OUR APPROACH IS DIFFERENT
---
Instead of masking symptoms by taking a barrage of pills, we work on healing the body from within.
Our program includes nutrition, comprehensive in-clinic treatments, and home therapies to improve your quality of life.
Upon qualifying for our program, one of our Board Certified Doctors will evaluate you to determine if you are a candidate. Qualified candidates will work closely with our certified nutritionist who will tailor a 12-week nutrition plan to improve your blood sugars.
In-office treatments will target the source of the neuropathy.
Our approach is to heal the body from the inside out. The result of lowering blood sugar levels allows the body to express itself at a higher capacity. Our method of increasing vitality in our patients is the solution to reversing neuropathy.
Working with our team is a wellness journey, and in doing so we are able to help our patients reverse their neuropathy.
Type II diabetes is also known as adult-onset diabetes. In these case types, the common denominator is high sugar levels. The sugar level is high because the body is unable to regulate normal blood glucose. The only way to address this is to fix the underlying metabolic component, through nutrition. This is a measurable issue that we are able to manage with great success in our diabetic neuropathy reversal program.
SUCCESS STORIES
I am now very confident driving and have no issues with it. I can spend time in my yard working and walk behind my lawn mower. My balance has approved. One thing I noticed in church is I can stand for two hymns without having to sit down.

-Bob
Coming here really helped me out. I liked everything about the program. It makes me feel a lot better. The nutritional supplements; I love that. I am still getting that

-Bonnie
GET STARTED
To see if you're a good fit for the program, please schedule online or call to request an initial Neuropathy Reversal examination.
Initial examination with a report of findings is a flat $75 unless you have a promo code/special offer.
FAQS
---
How long does Neuropathy take to heal?
Our program is designed to optimize your health in the shortest time possible. In order to heal nerves, it can take 12-18 months, however, we typically see a dramatic improvement in a few weeks of treatment.
What if I'm already on a healthy meal plan? Should I switch to the one in this handbook?
We suggest you stay as close as you can to our eating recommendations. However there are many beneficial eating plans and you are welcome to continue with your current plan, as long as it includes anti-inflammatory foods and foods that do not aggravate your neuropathy.
What is the best way to care for my home therapy equipment?
Please read the instructions/manuals of each home therapy device carefully. Keep cords away from being stepped on, closed in recliners, or pulled away from the walls.
What if I need more help?
Feel free to ask us, we are always here to help!
Call our office at (717) 865-6183 or email us at info@bluemtnwellness.com.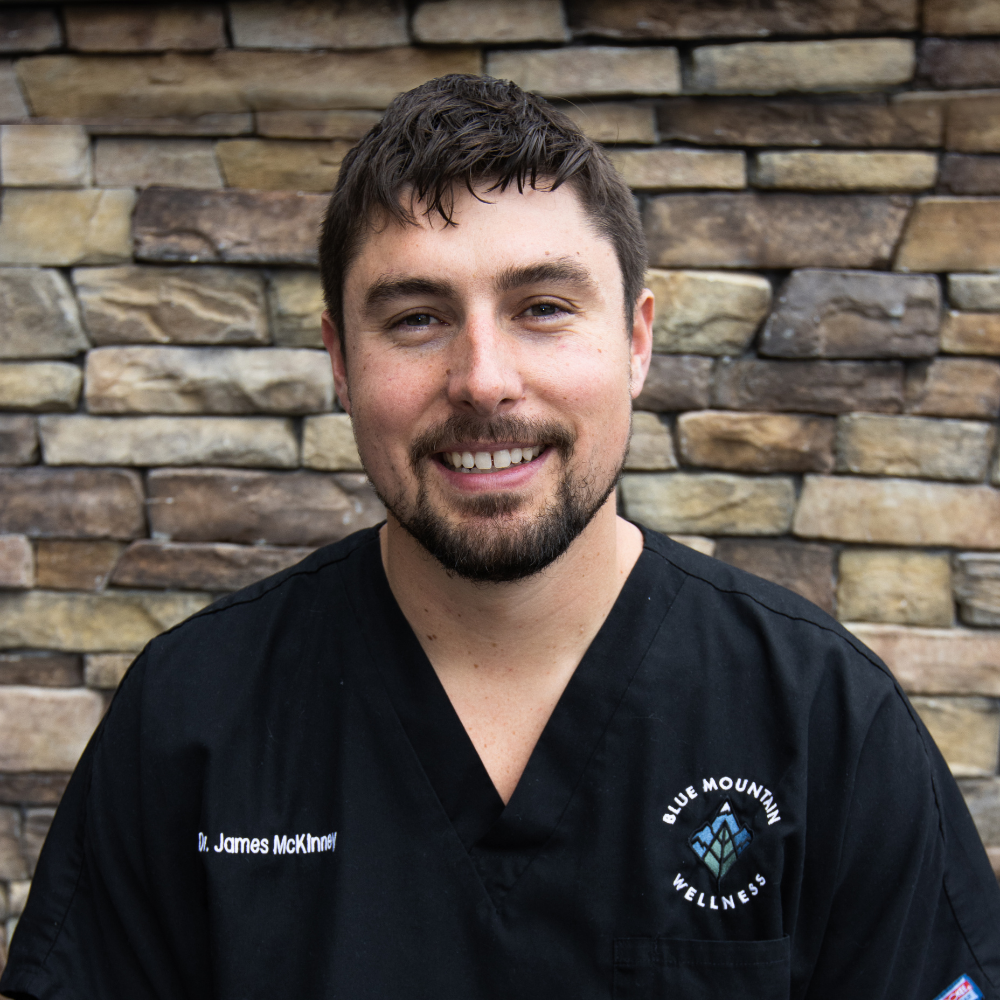 James McKinney III
Neuropathy Specialist/Chiropractor
Dr. McKinney is a native to Lebanon county and a graduate of Northern Lebanon High School. He completed his undergraduate studies at Liberty University in Lynchburg, Virginia and was conferred a bachelor's degree in Kinesiology Exercise Science. He then went on to earn his Doctor of Chiropractic at Palmer College of Chiropractic in Davenport, Iowa.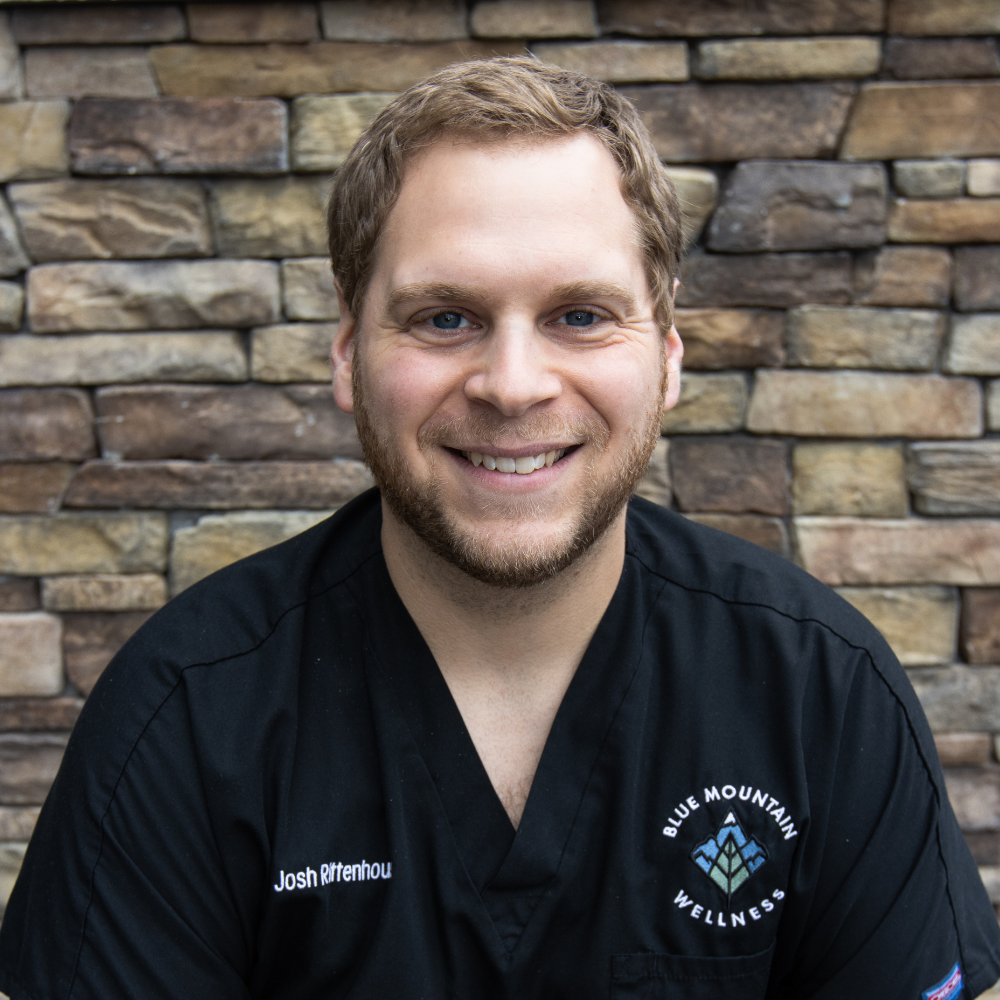 Josh Rittenhouse
Chiropractor
Prior to chiropractic school, Dr. Rittenhouse attended Messiah College in Mechanicsburg, PA, where he earned his Bachelor's Degree in Biology. He was born and raised just outside of Philadelphia, PA, and currently lives in Ephrata, PA with his wife, Amy.