Conditions:
ARTHRITIS
---
Anybody who has personally suffered from arthritis or seen a family member suffer from arthritis knows that it can be a burden. The joint pain and inflammation from arthritis can begin to impact all parts of daily life, making it difficult to do the most basic tasks. Here at Blue Mountain Wellness, we have a variety of effective treatment options to help treat arthritis and its underlying causes.
CAUSES OF ARTHRITIS
The main causes of arthritis are trauma and genetics, but they can also be a result of lifestyle factors. People have a higher chance of developing arthritic conditions when they have physical labor type jobs because of excessive wear on the joints. People who are overweight also increase stress on the joints and can lead them to wear out more quickly. The treatments at Blue Mountain Wellness are designed to address these problems through a whole body approach leading to optimum results. We help promote healing, decrease recovery time, and help eliminate additional damage to keep you active and comfortable longer.
I can't say enough about Dr. Jim and his staff. I was having severe pain in my right shoulder and neck. Called and explained it. They got me in immediately and started working on a wellness plan. They are all great people. It's a very friendly and warm atmosphere. Just couldn't be happier the service ! Thank you Blue Mountain Wellness !

-Nick M.
TREATMENT OPTIONS
There are some excellent options to help treat arthritis safely and effectively. At Blue Mountain Wellness, our treatments can help you feel better and help you get back to the activities you love. Our treatment programs consist of:
-Regenerative Medicine: Injection into the joint space helps the joint to heal and restore cartilage
-Chiropractic Adjustments: Corrects alignment and reduces pressure on nerves
-Arthrostim: Low force adjusting tool and muscle therapy device to help promote joint mobility and reduce muscle tension
-Anti-Inflammatory Nutrition and Supplements: Stimulate full-body healing and reduce inflammation in arthritis joints
-Electric Stimulation Therapy: Relieves pain and relaxes muscles
-Radial Pulse Wave Therapy: Breaks up muscles tension and stiffness around the affected joint areas
-Class 4 Laser Therapy: Helps reduce inflammation and promote tissue healing around arthritic joints
-Home Stretches and Exercises: Promotes correct biomechanics and reduces tension in the affected joints
-Supervised weight loss to minimize additional stress on joints and help promote good nutrition
Our Chiropractic Techniques
---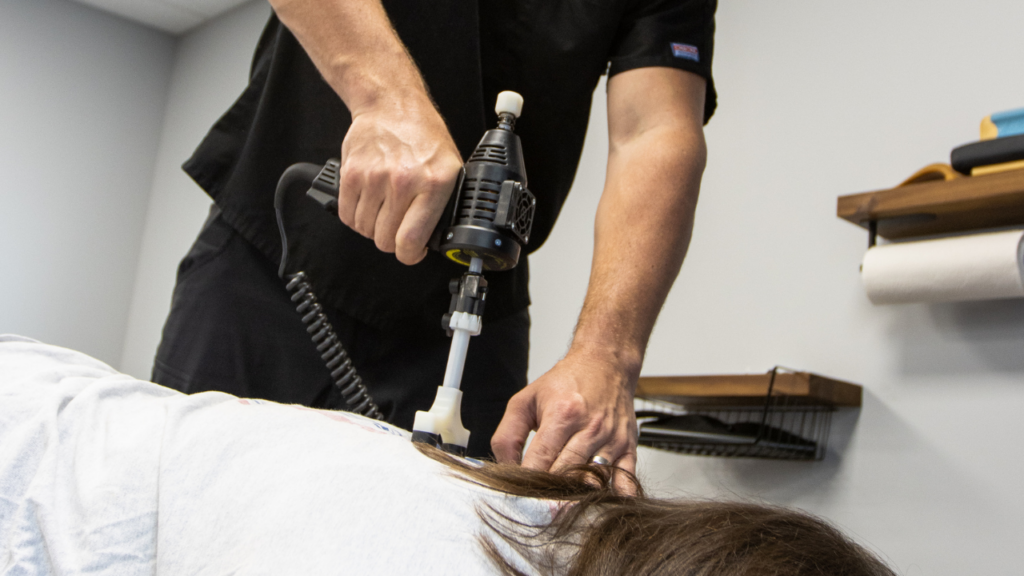 Arthrostim
Low force adjusting tool and muscle therapy device to help promote joint mobility and reduce muscle tension