Conditions:
DEGENERATIVE DISC DISEASE
---
Degenerative disc disease, also known as DDD, is a very common condition impacting the spinal discs and joints. Millions of people each year suffer from pain related to degenerating spinal discs. At Blue Mountain Wellness, we can help you get your life back with a safe and effective treatment plan designed for people impacted by degenerative disc disease.
CAUSES OF DEGENERATIVE DISC DISEASE
By far the leading cause of degenerative disc disease is wear and tear of the spine over time. Typically, the first step in the degeneration process occurs when the spine stops moving properly due to repetitive work stress or a sedentary lifestyle. Once the spine is not moving correctly, the stage is set for other problems to occur like poor spinal alignment, bad posture,and nerve compression.
Chiropractic care is the best way to get the spine moving properly and correct these alignment problems before disc degeneration begins. Once degenerative disc disease has set in, unfortunately there is no way to reverse it. But, the good news is that chiropractic care can treat all of the pain and spinal alignment issues associated with degeneration safely and effectively.
The doctors at Blue Mountain Wellness have many years of experience treating degenerative disc disease and will create a treatment plan using cutting edge therapies and chiropractic care for optimal results.
Shout out to DR Tressler and Dr Rittenhouse for a great job! I'm feeling much better since starting my treatments. Everyone in the office is nice and friendly. The new office space is really nice.

-Michele S.
SYMPTOMs OF DEGENERATIVE DISC DISEASE
---
Common Symptoms include: Sharp or constant pain in your neck or back , Pain in your lower back, buttocks, or upper thighs, Pain feels worse when you sit, but better when you move or walk, Pain gets better when you change positions or lie down, Numbness and tingling in arms and legs, and Weak leg muscles
TREATMENT OPTIONS
There are some excellent options to help treat disc degeneration safely and effectively. At Blue Mountain Wellness, our treatments can reduce symptoms and help you get back to the activities you love. Our treatment program consists of:
-Chiropractic Adjustments: Corrects alignment and reduce pressure nerves
-Arthrostim: Low force adjusting tool and muscle therapy device to help promote joint mobility and reduce muscle tension
-Electric Stimulation Therapy: Relieves pain and relax muscles
-Radial Pulse Wave Therapy: Breaks up muscles tension and stiffness around the degenerated areas
-Class 4 Laser Therapy: Helps reduce inflammation and promote tissue healing around degenerated areas
-Home Stretches and Exercises: Promotes correct biomechanics reduces tension in the affected area
-Supplements: Stimulate healing and reduce inflammation
Our TREATMENT OPTIONS
---
Chiropractic Adjustments
Corrects alignment and reduce pressure nerves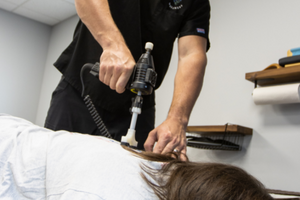 Arthrostim
Low force adjusting tool and muscle therapy device to help promote joint mobility and reduce muscle tension